Hisense REF091DR Fridge 91Liters Double Door
Hisense Fridge 91 Liters Double Door REF091DR. At Hisense, we understand that having ample storage space is vital when it comes to choosing the perfect refrigerator. With the REF091DR fridge, you can experience the ultimate convenience of a 91-liter storage capacity, providing you with plentiful room for all your groceries.
Ample Storage: The REF091DR fridge offers a generous storage capacity of 91 liters, allowing you to store a wide variety of food and beverages.
Smart Organization: Make use of the adjustable shelves and door compartments to effortlessly organize your items, ensuring easy access and hassle-free maintenance.
Efficient Cooling: Equipped with advanced cooling technology, this fridge ensures efficient and consistent cooling performance, keeping your food fresh for a longer duration.
Energy Saving: The REF091DR fridge is designed with energy efficiency in mind, consuming minimal energy while delivering superior cooling results.
Stylish Design and Enhanced Convenience
The Hisense REF091DR fridge not only excels in functionality but also adds a touch of elegance to your kitchen. Its sleek design and convenient features make it a perfect addition to any modern household.
Modern Aesthetic: The REF091DR fridge features a sleek and timeless design that effortlessly enhances the overall look and feel of your kitchen.
Double Door Convenience: With its double door design, you can easily access different compartments, allowing for efficient and organized food storage.
Adjustable Temperature Control: Take control of your refrigerator's temperature settings with the convenient adjustable thermostat, ensuring your food and beverages stay at their optimal freshness.
LED Lighting: The fridge is equipped with LED lighting, illuminating the interior and providing clear visibility of your stored items, even in low light conditions.
Advanced Features for Enhanced User Experience
Hisense believes in making your life easier and more enjoyable. The REF091DR fridge is packed with advanced features that cater to your needs and elevate your overall user experience.
Silent Operation: Say goodbye to disruptive refrigerator noise. The REF091DR fridge operates quietly, allowing you to enjoy a peaceful atmosphere in your kitchen.
Fast Cooling Function: The fast cooling function enables you to quickly cool down newly added items, preserving their freshness and minimizing temperature fluctuations.
Low Maintenance: Thanks to its frost-free design, you no longer need to worry about manual defrosting. The REF091DR fridge saves you time and effort by preventing ice build-up.
Easy to Clean: Cleaning the refrigerator is a breeze, as the REF091DR comes with removable shelves and door compartments, making maintenance hassle-free.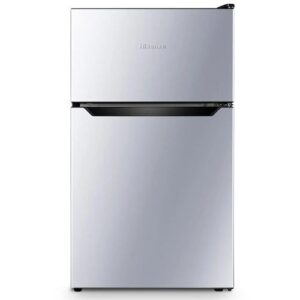 Hisense REF091DR fridge 91-liter fridge
Double door refrigerator
Energy-efficient cooling
Adjustable shelves and compartments
Sleek and modern design
Silent operation fridge
Easy to clean refrigerator
Fast cooling technology
Frost-free fridge